Our Gallery talks moved online during lockdown.
Artwork of the Month for April 2021 is one of the highlights of the Gallery collection, the portrait, by Sir Peter Lely, of Charlotte Fitzroy, the illegitimate daughter of King Charles II. The child is shown accompanied by an unidentified page boy.
The painting was acquired with help from the Friends and is discussed here by Grace England, the latest MA student in Art History to be sponsored by the Friends.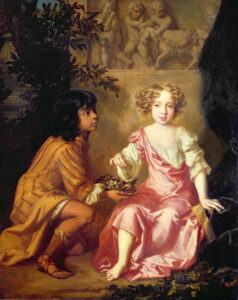 Sir Peter Lely (1618-1680), Portrait of Charlotte Fitzroy, c.1669-c.1679, oil on canvas
Image courtesy of York Museums Trust :: https://yorkmuseumstrust.org.uk :: Public Domain